It's a pleasure to have you here!
The Windisch family welcomes you to the Aktivhotel Panorama in Pflerschtal/Val di Fleres! This is us: senior manager Hans, his two daughters, Alexandra and Patrizia, and their husbands and children. Alexandra and Harald have two sons: Gabriel and Moritz, and Patrizia and Luca have a son and daughter: David and Greta. As you can see, our hotel is a real family business. As dedicated hosts, we want to share with you the wonderful energy that emanates from the most beautiful place in the world. Visit us and enjoy true holiday freedom in the mountains. It will be incredible, we promise.
Personal, genuine, authentic
Among lush green meadows and at the foot of the rugged Tribulaun mountain, we have created a place where you can have fun, enjoy real experiences, good wine, the best food, and relaxation. Pflerschtal/Val di Fleres is not only an oasis of tranquillity in South Tyrol, it is also known as the valley of waterfalls. You can still enjoy a real and authentic way of life here. There are Alpine pastures full of wild herbs and meadow flowers and paths away from the tourist masses. In addition, there are six waterfalls that offer well-deserved refreshment on hot summer days. No wonder some guests have been coming here for over 30 years.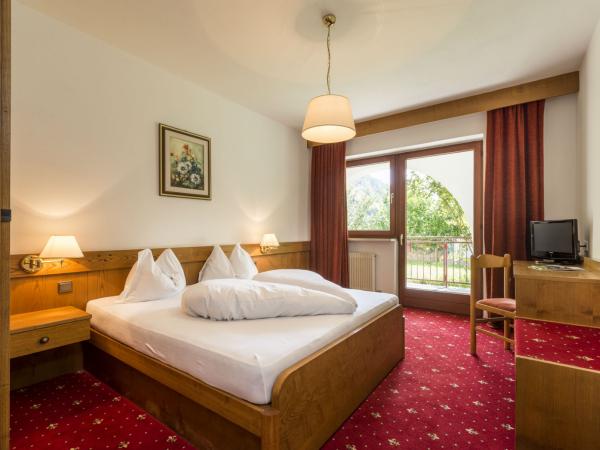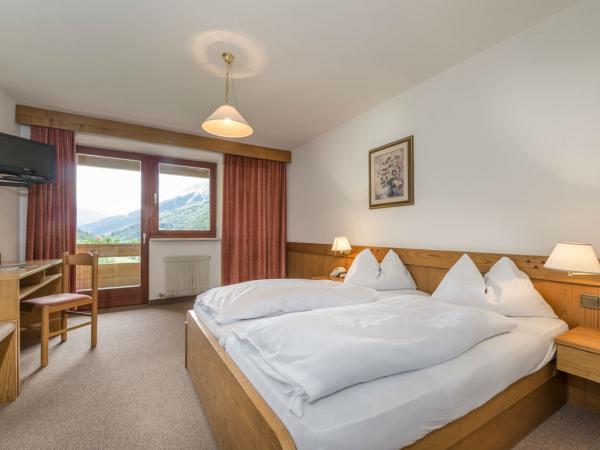 Double room "Wetterspitz"
Double room "Schneespitz"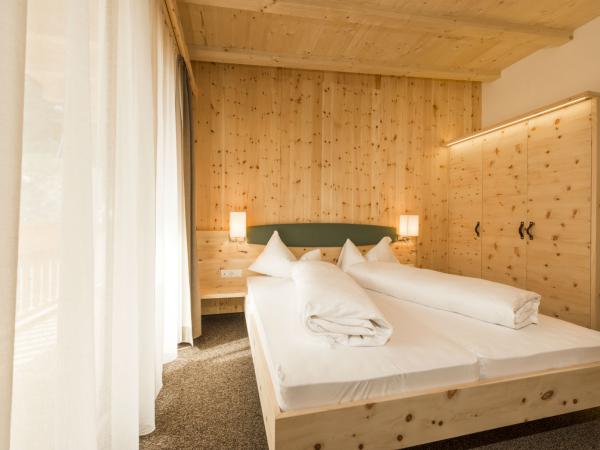 Double room "Schneespitz Deluxe"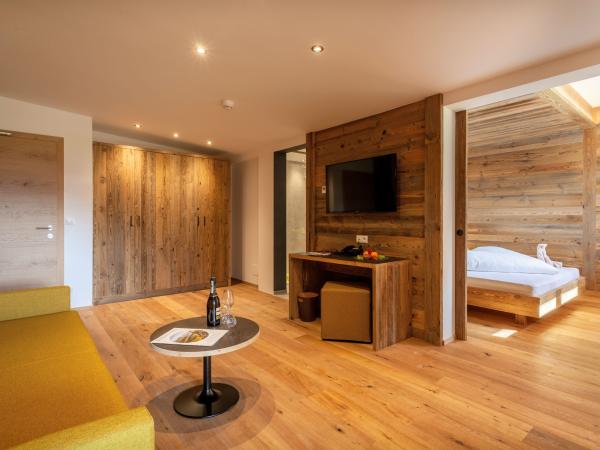 One thing you should know before you arrive: Up here (at 1,260m), we treat guests like friends. We will be on a first-name basis in no time. That's just the way it is with us South Tyroleans. :)
7 overnight stays
incl.
half board
Perfect starting point – in summer and winter
There's a reason our hotel is called the Aktivhotel Panorama. Being active is what it's all about here. Numerous opportunities to do sports and exercise await you. How about ski touring, skiing, tobogganing, or cross-country skiing? In the warmer months: How about hiking or biking? The list of activities is seemingly endless!
We are a member of the Wanderhotels!
What does that mean? It means that we are officially one of the best hiking and active hotels in South Tyrol and the entire Alpine region. We will take you on guided tours and show you our favourite places and trails – off the beaten path.
Some say holidays simply have to include wellness, and we couldn't agree more! That's why, a few years ago, we built a small but wonderful relaxation oasis with a sauna, a steam bath, and two relaxation rooms. We hope you will enjoy it!