Skiing in Ladurns – want to experience pure bliss?
Skiing in Ladurns is delightfully cosy. It's family-friendly and not too big but has something to offer for every ski-lover. Advanced skiers can enjoy the panorama slope with a view of the Tribulaun or carve down the forest valley run; beginners make their turns on the many wide blue and red slopes. Did you know that the Ladurns ski area was awarded five stars by the winter portal Skiresort.de as an insider tip among small ski areas? To add just another reason why you should spend your ski holiday with us.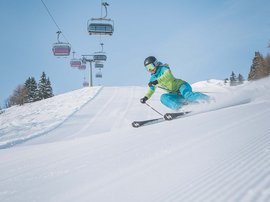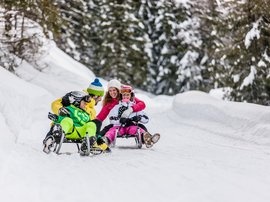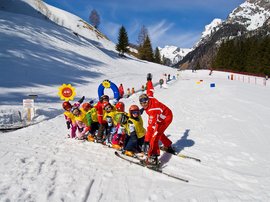 The perfect family ski area
The Ladurns ski area is ideal for families. Kids from the age of two can romp around at the Fichti's Kinderwelt, a 5,000m² children's winter park. In the Ladurns ski school, which has won several gold awards, the little ones can learn their first turns in the snow in a relaxed and fun atmosphere. For those who want to take a break from skiing, you can race down to the valley on the almost seven-kilometre-long toboggan run.
Two additional ski resorts
Monte Cavallo/Rosskopf ski area
Beautiful ski area above the former Fugger town of Sterzing. Featuring 20 kilometres of slopes, a 10-kilometre toboggan run, numerous huts, and plenty of sunshine.
Racines/Ratschings ski area
Pleasant ski area with 25 kilometres of slopes. The northern slopes, which offer good snow grip until spring, or the "Saxner" downhill run, are particularly popular among expert skiers.
The best part? The free ski bus starts 500 metres from your front door and takes you from our active hotel in South Tyrol directly to the three ski areas Ladurns, Monte Cavallo/Rosskopf, and Racines-Giovo/Ratschings-Jaufen.
Taking a break is part of the experience!
We South Tyroleans love to combine skiing with good food. That's why a stop at a hut is a real must. A plate of homemade Schlutzkrapfen (stuffed pasta) and a good glass of South Tyrolean wine accompanied by a fantastic view of the mountain peaks – now that's what we call happiness. Do as the locals do and stop off at one of the numerous huts while skiing in Ladurns!
Get warm while sweating in the sauna
We find that there's nothing better than sweating it out in the Finnish sauna or steam bath after a good skiing session to warm up your body and relax your muscles. A moment of rest awaits you afterwards in our panorama relaxation room.