Hiking, mountaineering, and summiting peaks
Lush green mountains with colourful mountain flowers, rugged mountain peaks, and a cow mooing somewhere in the distance – this is what awaits you in Pflerschtal/Val di Fleres. Feel the fresh mountain air flow through your lungs and experience the wonderful feeling of freedom. Our active hotel in South Tyrol is a place of longing in impressive nature to disconnect, breathe in, breathe out, and unwind.
We offer free guided tours with our mountain guides three to five days a week and will show you the undiscovered sides of Pflerschtal. Are you ready? Let's go!
Pflerschtal/Val di Fleres is not only the rustic haven of peace among the South Tyrolean valleys, but it's also the valley of waterfalls. Six waterfalls await in the immediate vicinity, offering a well-deserved spot to cool off on hot summer days. A wonderful destination for hiking.
We are a member of the Wanderhotels!
That means: We officially belong to the best hiking hotels in Italy, Austria, and Germany. In keeping with our "best alpine" pledge, our hotel meets the following criteria:
Our hotel in Ladurns is located in the middle of the most beautiful Alpine hiking regions. The hiking trails start right outside the front door.
Alpine competence and experience
Your hosts are passionate and skilled hiking experts who are available to answer all your tour planning questions.
We offer free guided tours with our mountain guides three to five days a week: from family hikes to select summit tours.
You can borrow equipment such as hiking poles and rucksacks from us free of charge, subject to availability.
On request, we can arrange your transfer – also for your individually planned hiking tour.
After a hike, relax in the sauna, steam bath, or in our hay relaxation room.
Delicious and healthy cuisine
We will spoil you with culinary delicacies from the region, enjoyable whole foods, and vegetarian specialities.
Our local mountain, the Tribulaun
You'll recognise the Tribulaun straight away. It stands out next to the other nearby peaks. Geologically speaking, its wild, steep rock faces belong to the Dolomites, as it is primarily made of dolomite rock, just like the south-eastern mountains. It's no wonder that just looking at the Tribulaun makes you want to climb it. Its peak can unfortunately only be reached by a difficult level III climb, but the view from the Tribulaunhütte mountain hut is (almost) as impressive.
Would you like more hiking tips?
Hike to the Malga Furt/Furtalm
The hike to the Malga Furt/Furtalm mountain hut leads past rushing streams and waterfalls and along rooty trails to an Alpine pasture in the middle of the greenery at the foot of the Tribulaun mountain. With a bit of luck, you might even spot a marmot!
The Dolomieu trail is a themed trail that runs through the entire Pflerschtal/Val di Fleres valley. Along the trail, you will gain unique insights into the geology, nature, flora, and fauna of the Alpine region. At the six South Tyrolean Alpine pastures with mountain huts that you pass, you can enjoy delicious products.
Hike to the "Hölle" waterfall
The German word "Hölle" means "hell", but don't worry, the waterfall trail is much nicer than it sounds. It is a circular trail that leads you to the highlight: the Hölle waterfall.
Hike to the Magla Allriss/Allriss Alm
A short and easy hike suitable for everyone. Once at the top, genuine South Tyrolean hut specialities await.
Duration: 1 hr. 30 min. (at a leisurely pace)
Length: 3km
Hike to the Refugio Edelweiss/Edelweisshütte Ladurns
The Alpine walk to the Refugio Edelweiss/Edelweisshütte mountain hut in Pflerschtal/Val di Fleres leads along a beautiful forest path – across meadows and through forests.
Duration: 40 minutes
Length: 1.5km
The all-inclusive card for our holiday guests
Have you heard about the activeCARD? With it, you can use public transport and lifts for free and get free admission to many museums. In addition, you can take part in numerous guided hikes free of charge. Sounds good, doesn't it? We think so too – that's why we give you the card for free when you stay with us on holiday between May and November.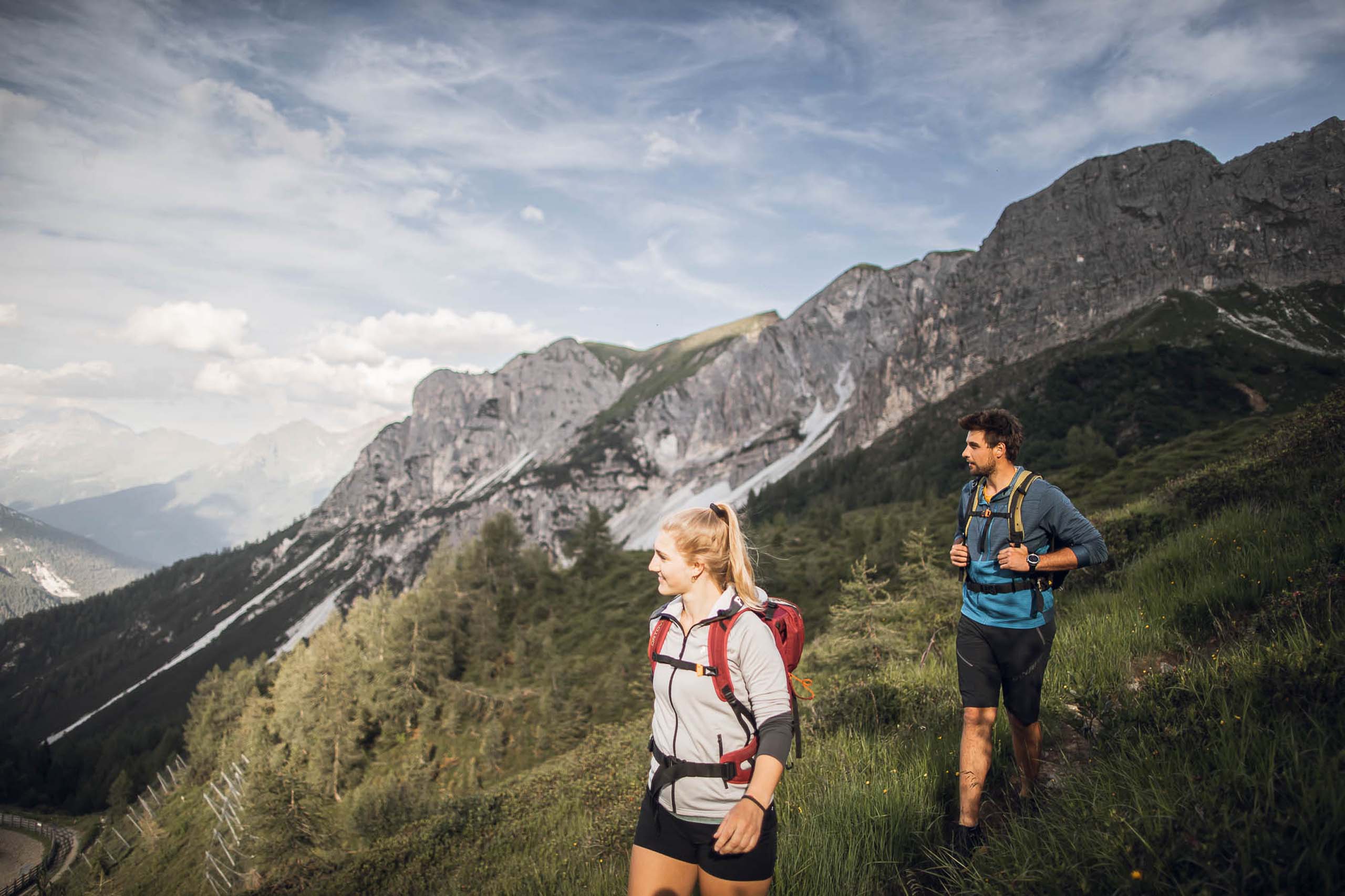 free guided tours per week